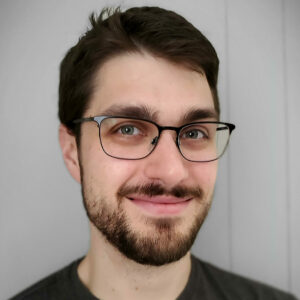 Hello! I'm Nick Wertzberger, and I'm from Omaha, NE. I am really into testing, I care a lot about readable code, and am passionate about software architecture. I write software that expands the impact of the people who use it.
At my day job, I am currently helping people slide into each others' DM's at Instagram.
You can reach out to me via the following:
Below is my online CV.
Credentials I have
Deep Learning Certification via Coursera.org (I love coursera)
Master's Degree in Computer Science, Artificial Intelligence Concentration from the University of Nebraska, Omaha
Bachelor's Degree in Computer Engineering from the University of Nebraska, Lincoln
Things I've Done
Artificial Intelligence and Operations Research Stuff
Developed parts of a system for optimizing operations in rail yards.
Infrastructure Stuff
Architected and Developed and released automated database change management pipeline using Liquibase, Jenkins, and custom sql validation logic (ANTLR grammar stuff, not just regexes) for managing hundreds of database schemas.
Designed and Developed application templates and shared libraries for faster development of internal spring-boot based applications using Yeoman (used in hundreds of internal code bases).
Architected and Developed dynamic database schema placement engine for on demand creation of new schemas.
Architected and Developed high availability software hosting platform and deployment engine, with automatic restore on deploy failure for hosting over 10,000 heterogeneous java instances.
Architected and Developed high throughput (50,000 logs/s) enterprise logging solution
Other stuff
Things I did a very long time ago
Developed air traffic control software
Developed prototype graphical programming interface for an educational robot
Current "regular use" Languages
Hack
Python
Typescript
Bash
SQL
Languages I do things in occasionally
C
C++
C#
ANTLR
Scala
Groovy
Coldfusion
Kotlin
Java
Perl
Ruby
PHP
Anything that makes sense*
Once upon a time I was really into embedded software, as well. There's still some ATmega chips hiding in my basement.